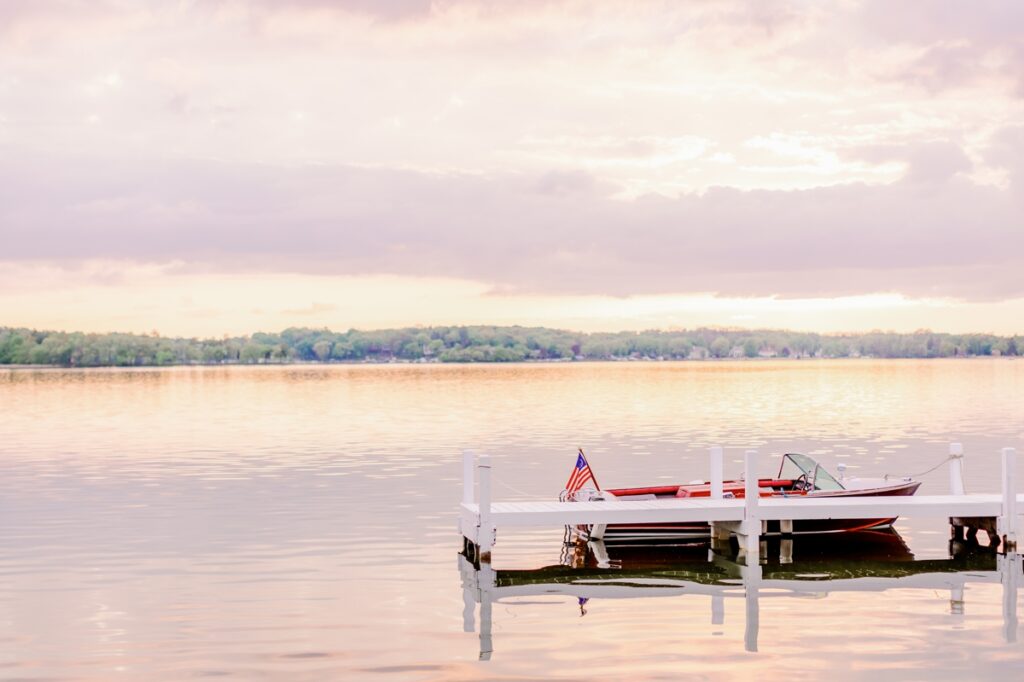 As a Southern Wisconsin/Chicagoland Wedding Photographer, I am often inundated with the most exquisite days and the most thoughtful couples.
This incredible wedding in late April was no exception.
When my couples choose to celebrate their day with pieces that reflect back to who they are, that is when I get really ecstatic. Kelsy and Andrew's day was precisely that.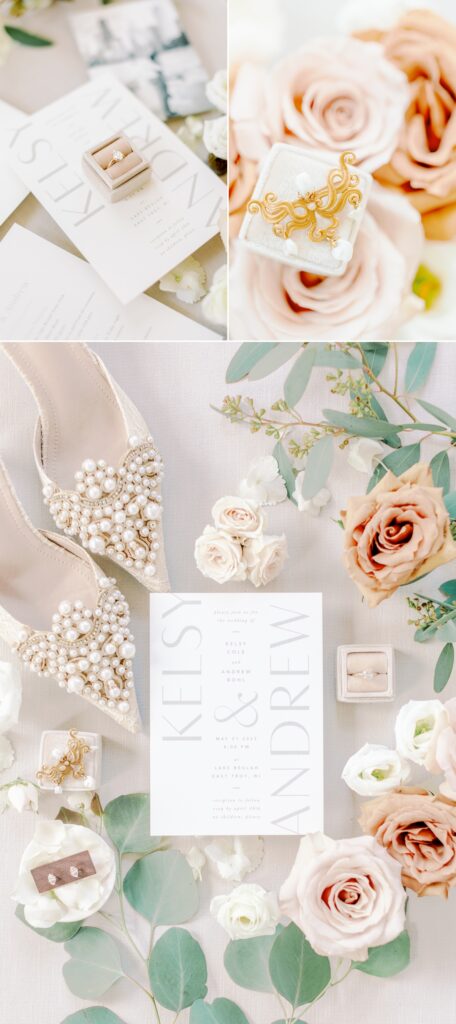 The rain had threatened to infiltrate their wedding day, as numerous members of the bridal party checked apps frequently. Fortunately, the true ray of sunshine, the bride Kelsy, shined so brightly she kept that rain at bay and even welcomed the most incredible sunset over Lake Beulah in Wisconsin later that evening. Samantha Kate accentuated her long locks with a boho half up style and face framing tendrils highlighting the magical makeup of Style By R that gave Kelsy a very natural bridal look. As Kelsy slipped into her semi custom gown from Bella Bianca Bridal Couture, I knew the reaction from her bridesmaids would be worth the images.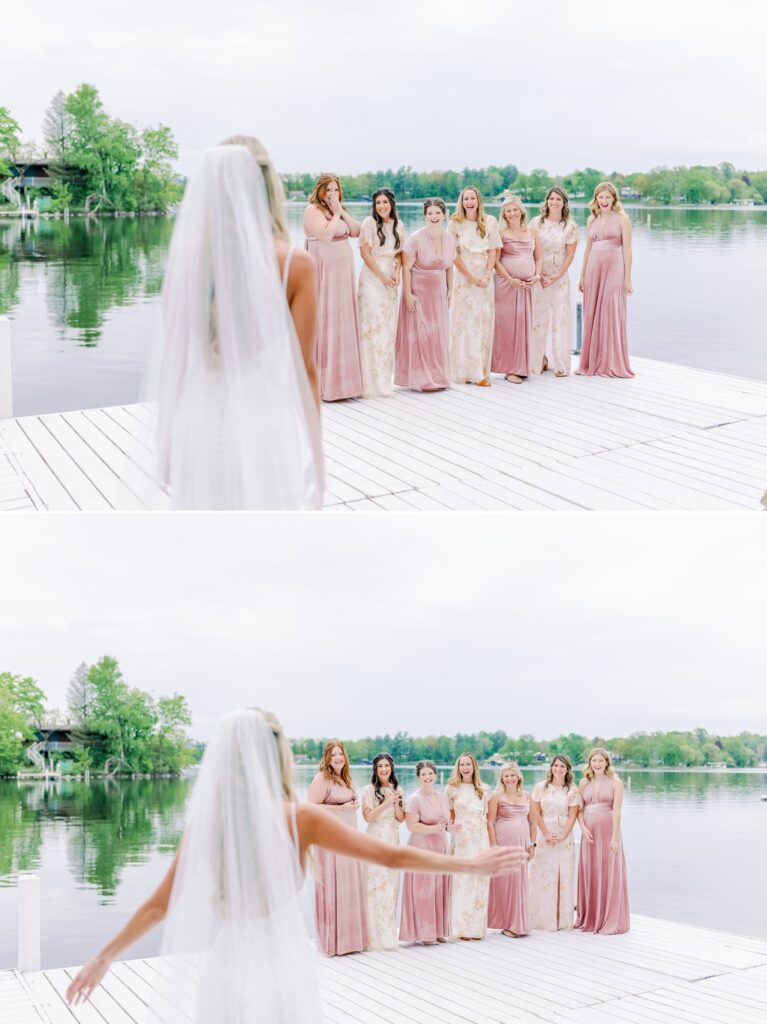 Tears flowed, and cheers exploded as this gorgeous group of women eagerly pepped up this bride for her best day ever. Meanwhile the groom prepped at a nearby estate filled with dear friends from his years living on the lake as well as playing college football at Cornell.
He wore his grandfather's beautiful cufflinks which paired well with the borrowed Octopus broach Kelsy pinned to her bouquet.
Their wedding was about legacy and long term, forever friendships and they truly surrounded themselves with incredible people to share this day with.

The Ceremony took place in the backyard of Andrew's grandparent's home, overlooking Lake Beulah. The archway decorated with jaw dropping neutral florals by KT Blooms framed the space amongst the blooming lilacs that had been planted by Andrew's grandmother.
Because the day was overcast, all of the incredible colors danced vividly for the camera. The mix of textures and patterns in the Revelry bridesmaid dresses made for a beautiful palette against the deep greens of the yard.
A scenic tour around Lake Beulah in a Vintage Speedboat, brought us to an incredible tented reception outside of Lake Beulah Yacht Club. With Andrew and Kelsy being avid sailors in the summer, the sperry sailcloth tent by Chance Productions, was the perfect home for their reception. Rattan chandeliers hung from the rafters creating a modern boho vibe while out back, an old sailboat was turned into the bar. Guests were treated to a delicious meal and hand-passed hors d'oeuvres from Toothpicks Catering as well as late night eats from Culvers.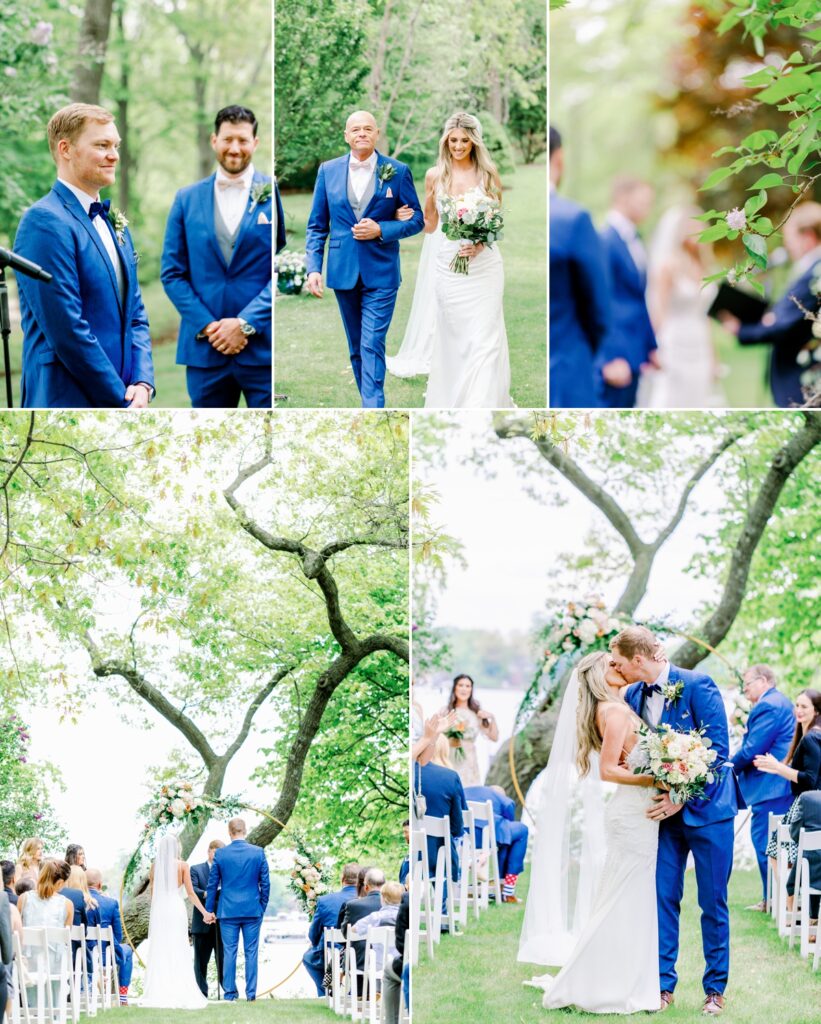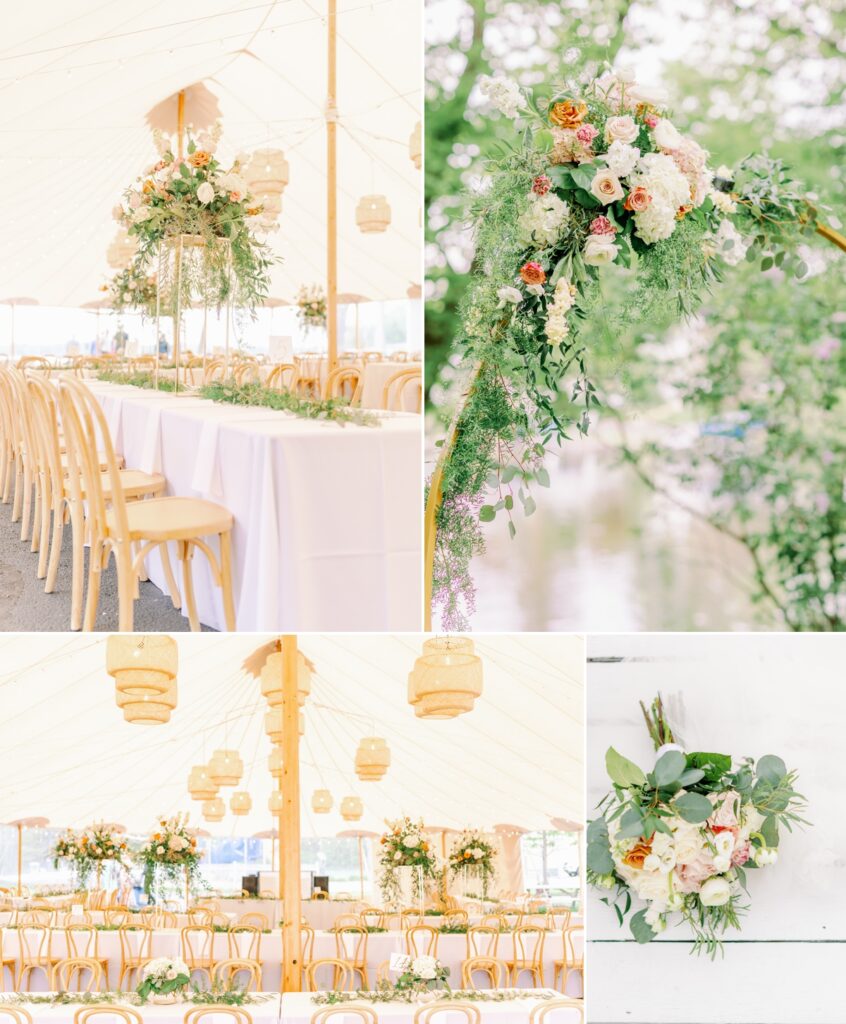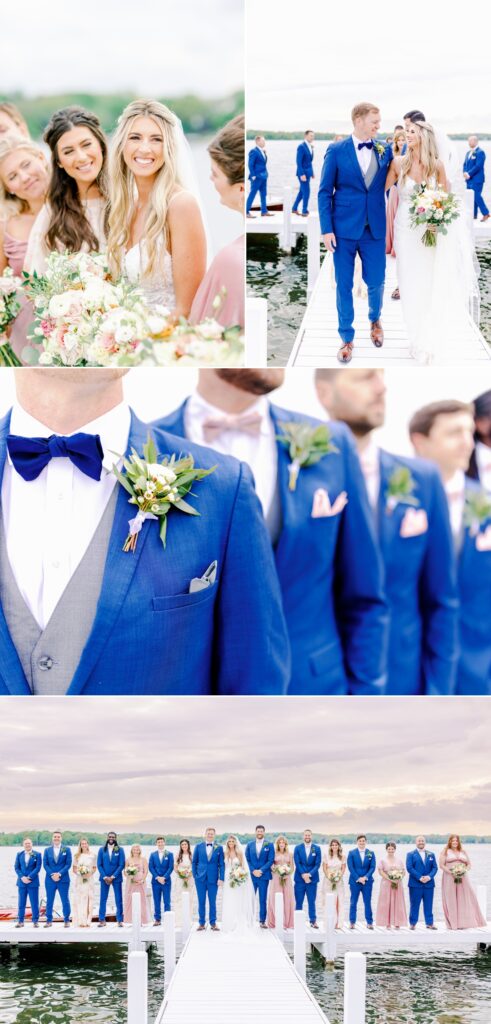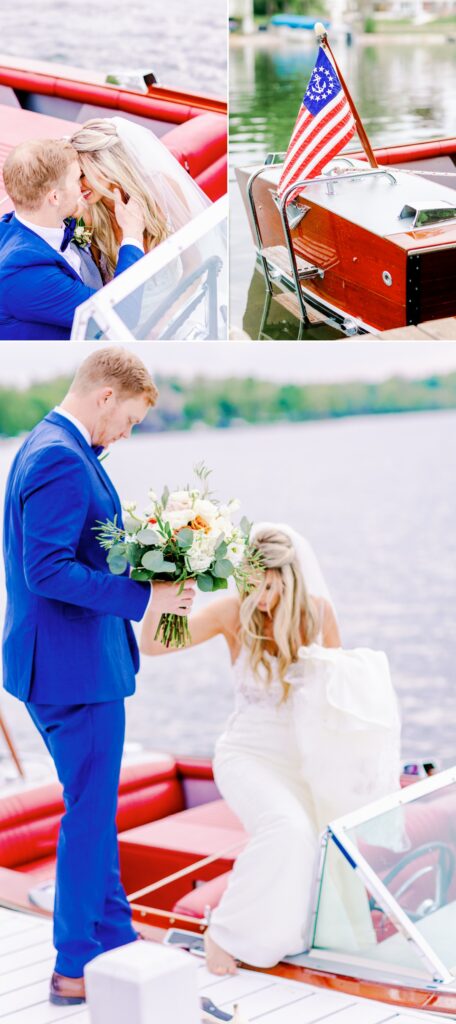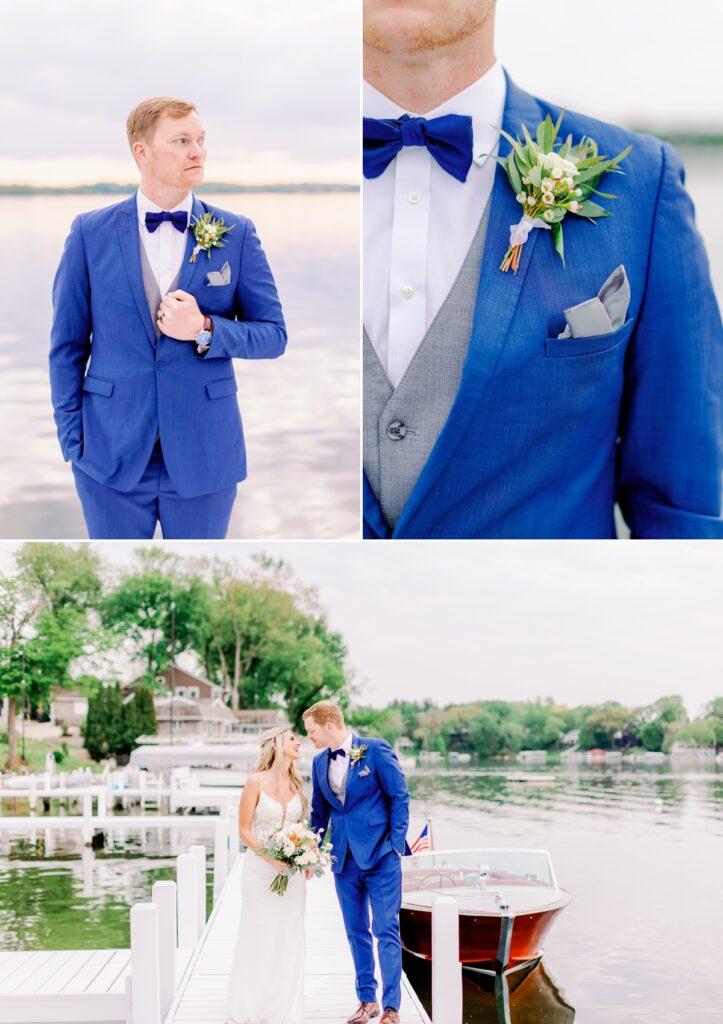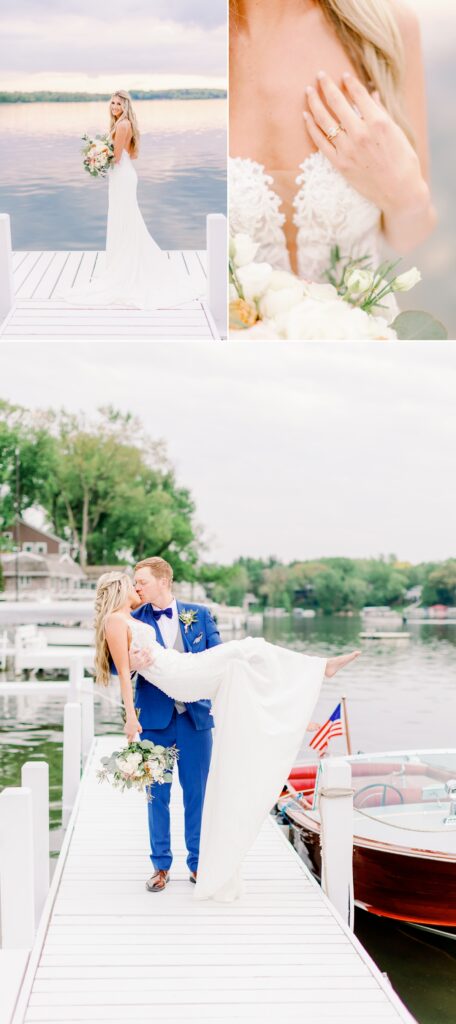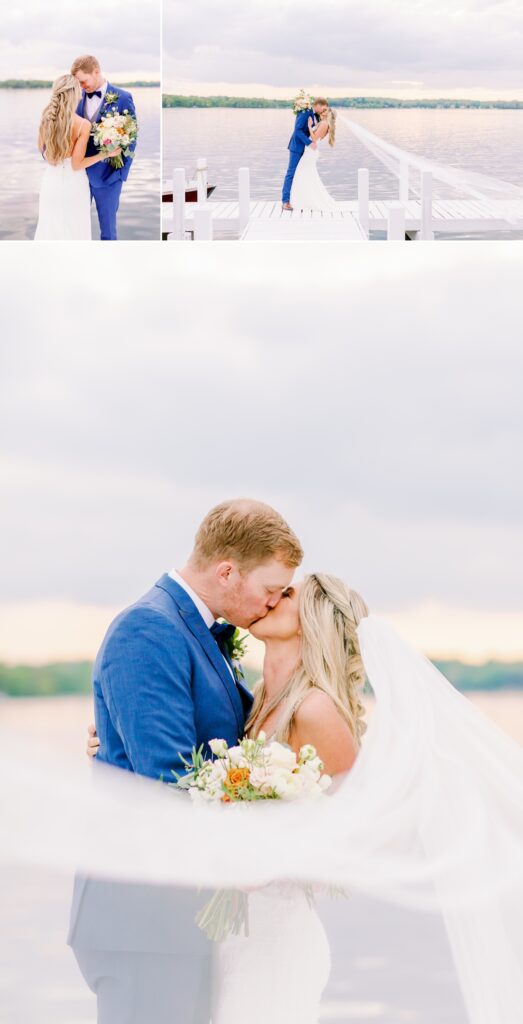 But no wedding day is worth hanging into the evening if the dance floor isn't packed. Sound By Design kept it HOPPING with a playlist that was non-stop goodness.
The laughter in the air was irresistible, and I couldn't help but laugh (and dance a little, too!) with them as I clicked away on my camera.
The work of talented vendors can turn a heartfelt celebration into one that's impossible to forget when you have an amazing vision and a talented planner like Liz Wolf-Dixon with Dream Weddings Wisconsin to pull it all off. That's definitely what happened on Kelsy & Andrew's wedding day.
Planning a wedding day celebration with any of these amazing vendors? You better believe I'd love the chance to work with them
again! Say hello, so we can get your wedding day on my calendar!